CoreFlow is proud to participate in a venture of the "Tassiyeda" Industry Volunteers for Advanced Education association and the "Reali" Technical High School in Haifa. In this venture, CoreFlow's team of mentors works with students majoring in system engineering, providing guidance in the process of new product development, and in project management.
In this program, mentors from CoreFlow guide groups of students through the entire product development process, accompanying them from the conceptual idea stage, through the development process, and to the product introduction stage. In the course of the mentoring process, students identify the needs and problems underlying the demand for a new product, perform market research, present possible solutions, practice decision making, implement the proposed solution, and then present their product.
"We at CoreFlow are excited to participate in this educational venture, in which students are encouraged to join Israel's industrial sector and are provided with real-world experience in the realms of product development and project management," said Eric Joely, CoreFlow CEO. "This venture allows the students to combine their theoretical engineering studies with practical experience in the industry."
"The partnership with CoreFlow's experienced mentors introduced our students to field-proven work processes and project methodologies", said Einat Sharf, the coordinator for the northern chapter of the "Taasiyeda" organization. "The professional guidance provided by CoreFlow's mentors helped to improve the students' effectiveness in their management of the project – from the idea stage to the introduction of the new product." added Gilad Benski system engineering department supervisor.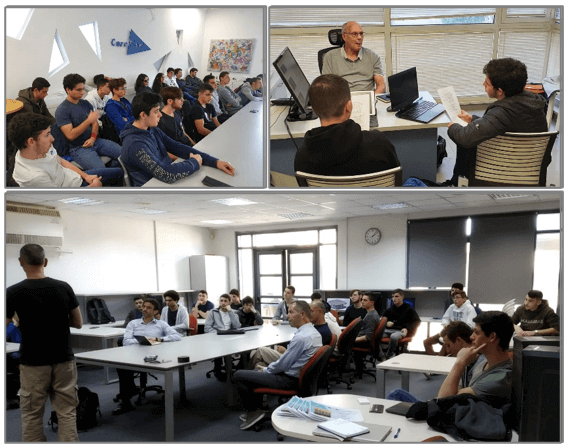 About CoreFlow Ltd.
CoreFlow is an industry leader in high-precision, air-floating solutions for critical processes in the Semiconductor and FPD industries. The company develops, manufactures and markets handling, conveying and processing systems used by key equipment manufacturers around the globe.
About Tassiyeda association
"Taasiyeda", supported by the Israel Manufacturers Association and the Ministry of Education, is a voluntary organization dedicated to promoting the advancement of industry-related scientific knowledge within the Israeli educational system and in the general community at large
The Hebrew Reali School in Haifa
Founded in 1913, Reali vision is to be a first-rate educational institution, a leader and pioneer which encourages and prepares its pupils to be worthy and decent human beings, engaged and critical citizens contributing to and inspiring Israeli society.