CoreFlow HQ, ISRAEL, Nov. 29, 2017 -- CoreFlow Ltd., a leading solutions provider of non-contact advanced handling and conveying systems, recently installed a large air-floating stage at the Institute of Space Systems (IRAS) at Technical University of Braunschweig.
The air-floating stage is aimed to enable the experimental satellites to simulate a weightless environment by floating them on air cushions. Unlike most of existing air-floating stages where an experimental satellite requires a separate supply of compressed gas to form the air cushions for themselves, the CoreFlow's air-floating stage at IRAS generates itself air cushions to support the test facilities. Thus long-term simulations are possible for the experimental testing of spacecraft attitude and orbit control.
The installed stage area size is 4 x 7 meters and can float experimental satellite mockups at a minimum floating height of 50 microns above the surface, with a maximum weight of 30Kg, allowing experimental satellite mockups to experience rotational and translational degrees of freedom.
"CoreFlow air floating stage allows us to successfully run experimental satellites to experience rotational and translational freedom." said Prof. Enrico Stoll, Head of IRAS, "Orbital debris is a growing concern in spaceflight. Thanks to the CoreFlow system we are coming closer to our goal of developing new technologies for active debris removal"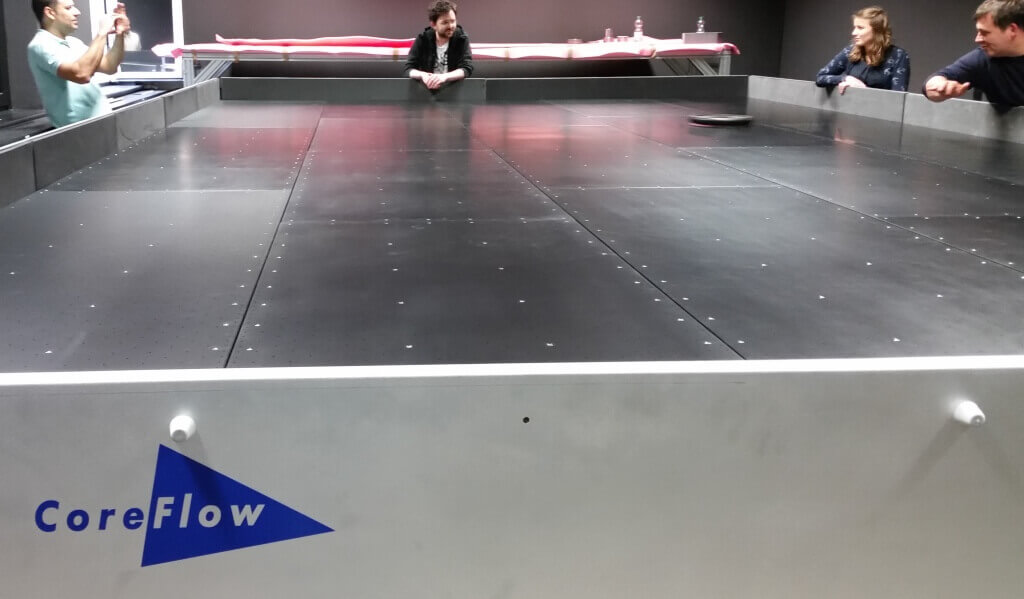 About CoreFlow:
CoreFlow develops manufactures and markets advanced handling and conveying solutions for Flat Panel Display (FPD) equipment manufacturers including LCD and OLED displays. With more than 700 installations worldwide, CoreFlow's air floating solutions can be found on the production floors of many top FPD manufacturing fab plants, where they reliably handle the glass panels of the leading display brands. CoreFlow brings several decades of combined aero-mechanical expertise to deliver manufacturing solutions with unmatched quality, accuracy, and stability – solutions that minimize your risk and maximize your manufacturing yield and throughput. CoreFlow's headquarters and research facilities are based in Israel, with sales and support representatives located in Korea, Japan, Taiwan, and China. Additional information may be found at www.coreflow.com.